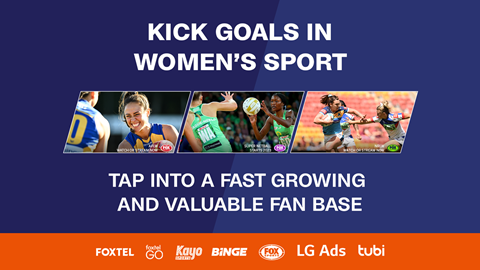 Our commitment to Women's Sport
Sport has been one of the most important socio-cultural learning experiences for boys and men for many years. Those same benefits should be afforded our daughters. 
We know that the number one driver of interest in Women's Sport is live viewership, and we are committed to producing and promoting high-quality broadcasts, coverage and content. We also know that the national leagues are the foundation of viewership among a Women's sporting audience. The ability of these to engage and connect with new audiences is crucial in supporting all sports and athletes.
Be in a league of your own
We partnered with specialist Sport and Entertainment Consultancy Gemba to research the future of brands involved in women's sports. Unlike men's leagues, women's leagues still present an opportunity for major sponsorships and naming rights– so get involved now to unlock the potential for your brand.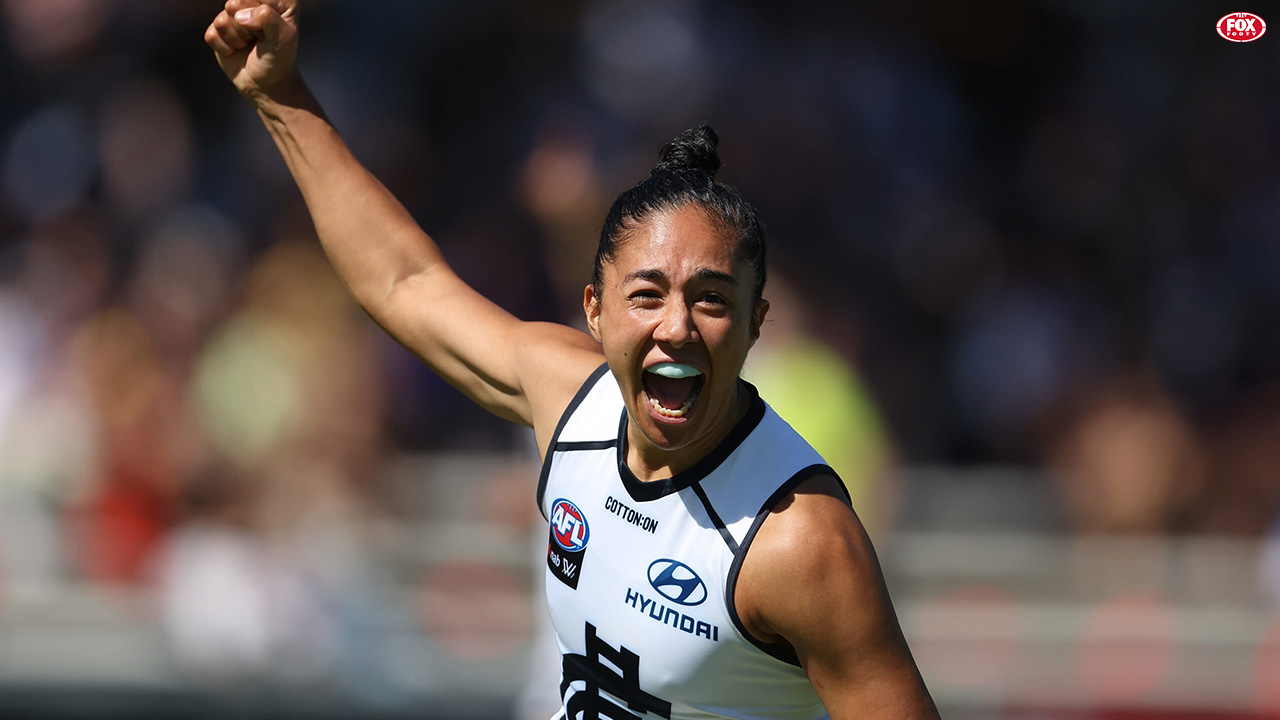 The Opportunity for Advertisers
Brands that support Women's Sport in a genuine manner, successfully engage this audience. Among those who actively watch or attend, there is a significant difference in recall and brand associations.
Significant potential for audience growth
Currently 6.6m Australians are actively engaged by Women's Sport, with significant room for growth. This will be led by increasing the number of existing sports fans watching Women Sport as well as recruiting more female fans.
Brands can get a foothold within the market
Unlike the major male leagues, Women's leagues present a major opportunity for brands to get a foothold in the market as a naming rights or major sponsor. All leagues have significant room for sponsorship growth
Women's Sport provides incremental audience
and reach
Half of Australians who watch Men's leagues also watch Women's Sport, presenting an opportunity for brands to achieve additional frequency, all throughout the year.
Increased viewership will bring women's deals closer to men's
The current structure of Women's Sport sponsorship deals are skewed towards the IP value. Increasing the audience / viewership will naturally increase the ability to charge for exposure and justifying a higher value.
Key Take-Outs
Get noticed
4 out of 5 women's sports viewers actively recall brands that sponsor women's sport, reflecting that brands that are present will be noticed
Familiarity with brands that sponsor women's sport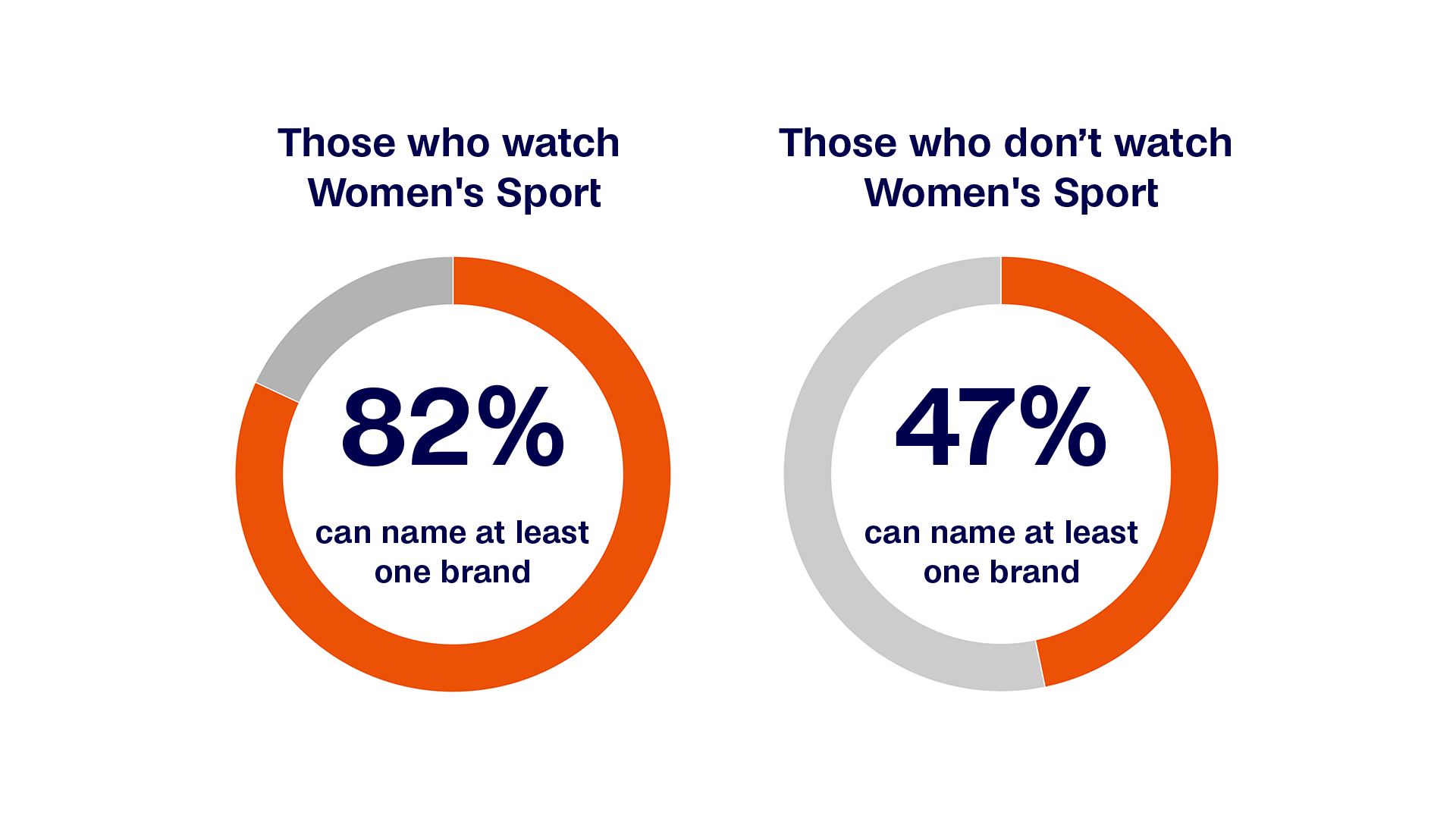 Q. To your knowledge, which of the following brands sponsor women's sport?Base = Watches women's sport (n=642), Does not watch women's sport (n=707)

Foxtel and Kayo play an increasing role with viewership shifting dramatically towards premium paid content the more they watch.
50% of audiences heavily engaged in women's sport watch on Kayo and Fox Sports.
Q. Which broadcasters/channels  do you watch the most sport on
Q. How many hours would you spend watching or following women's sport per week? Base: Total Population (n=2,054)
Australians are more engaged with Women's sport than ever but to grow it is important that engagement is converted into viewership. 4 in 10 audiences expect to be more engaged in the next 5 years.
Q. How do you see your engagement in women's sport changing in the next five years?
Viewers are more interested in supporting content such as behind-the scenes and half time shows than men's sports viewers. There is a clear demand for quality content that sits around live sport, giving brands the opportunity to help shift perceptions of quality.
​
Key Insights
Among the audience who watch women's sport there is an equivalent level of demand for high quality content that surround the live broadcasts

As Australians watch more women's sport there will be demand for produced content, behind the scenes footages and quality pre and post game shows

Investing in these aspects of the game is crucial in positively shifting the perceptions of professionalism and investment in women's sport
Types of sports content fans are interested in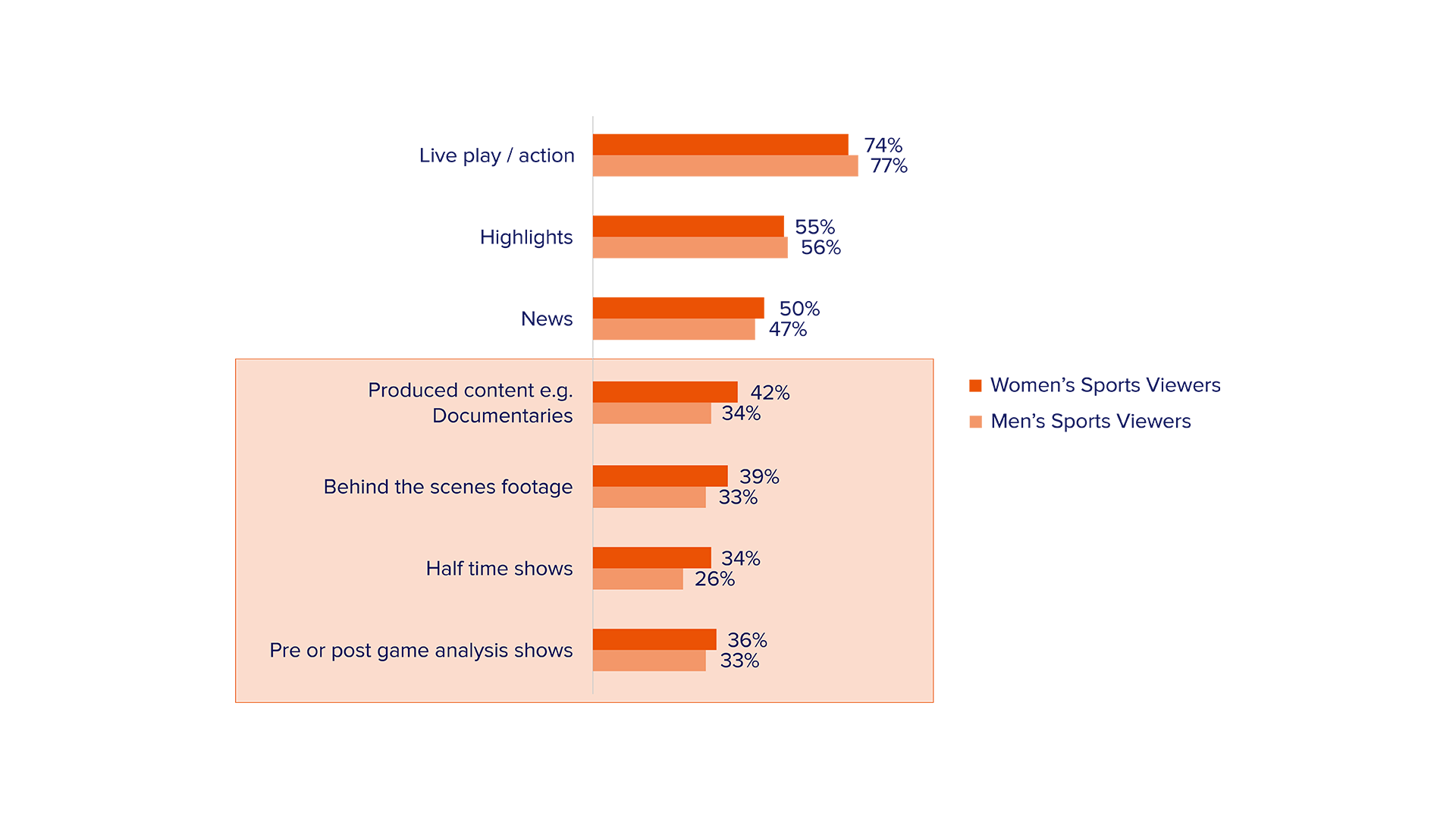 Q. Thinking about women's sport, how interested are you in the following types of content, where 1 indicates that you are not at all interested and 5 indicates that you are very interested
Base: Total Population (n=2,054)
Be in a league of your own
Brands that sponsor women's sport, benefit from associations with being progressive, genuine and seen to support the community.​
Fans that are aware of brands supporting Women's Sport are more significantly more likely to view them in a positive light, having notable impacts on brand perceptions:
​46% more likely to be considered Trustworthy
39% more likely to be considered a Leader
30% more likely to be considered a Genuine brand
Q. Using the list of words below please select up to three words that you would associate with brands that sponsor women's sportBase: Total population (n=2,054), Women's Sport Viewers (n=642)
Five key factors to a successful sponsorship


1. Consistency over time and within sport
To eliminate the risk of being viewed as simply jumping on the bandwagon, brands need to show long-term commitment and adopt female ambassadors. Brands that display a long-term commitment to women's sport will improve associations, consideration and loyalty amongst both men and women!
As competitions become more established there is a clear opportunity to build significant levels of sponsorship connection that is no longer achievable in many men's leagues.
Sponsorship awareness builds over time and doesn't come immediately, emphasising the need for a long-term commitment from brands. Consistent and meaningful sponsorships build spontaneous awareness over time and become intrinsic to fans or viewers​
2. All women at all levels
Younger audiences are more receptive, but it is crucial they see or experience the brand support from grassroots level
3. Providing a platform for our stars to grow
As viewership grows, so too will fan bases and the potential next generation of athletes. There is a significant opportunity for brands to reach untapped customers as women's sport grows.
4. Normalising women in sport
Development of professional women's sporting leagues and fanbase is the first step towards parity in investment, support, exposure and pay between female and male leagues
5. Backing the underdog
Investment in female sponsorships remains well below male equivalents. As broadcast support for women's sport increases, the absolute values and deal compositions will be similar to those of men's properties.
Ready to tap into a fast growing and valuable fan base?
Contact your Foxtel Media sports sales representatives today!
NSW:
Myles Taylor, Head of Sport Sales NSW
​
Caitlin O'Meara, Head of Digital Sports Sales
​
VIC:
Monika Poposki, Fox Sports Group Sales Manager