GolfNow's first ever TV marketing campaign delivers!
Read on to find out how GolfNow embarked on TV advertising for the first time to successfully drive customer growth and increase in app downloads in the Australian market place.
The Challenge
Foxtel Media embarked with a new advertiser in 2022 through the UK, a product called GolfNow, an online booking service for tee times at golf courses.
This is the first time they had done any TV advertising in Australia and Foxtel Media took 100% share of the TV/Streaming media budget.
The aim was to align GolfNow with relevant Golfing environments to ensure they were targeting fans / players and entice them to download/sign up to the app.
The Solution
Foxtel Media successfully connected GolfNow with a premium golf audience through a partnership across Foxtel's sports platform. This provided GolfNow the perfect environment to drive brand awareness among new and returning customers and awareness of the GolfNow app and encourage downloads among golfing fans or players
The Execution
Foxtel Media successfully connected GolfNow with millions of Australian golf fans and players through a targeted integrated partnership across key sports platforms, Fox Sports, and Kayo. This was the perfect partnership for GolfNow to grow awareness and stand out in a clutter-free environment, while also keeping cost efficiencies in mind. 
Foxtel Integration: Branded Fox Sports promos for The Open Championship, Branded Channel Idents for The Open, Live Golf spot placement (TV/Kayo) across the 2022 season.
The Results
GolfNow effectively drove brand awareness with a solid increase in new (+27%) and returning booking customers (+182%)
The partnership saw a huge uplift in downloads of the app (+843%), which was the main call to action from the TV campaign – with most of the downloads being in Sydney, Melbourne and Brisbane
Along with strong positive ROI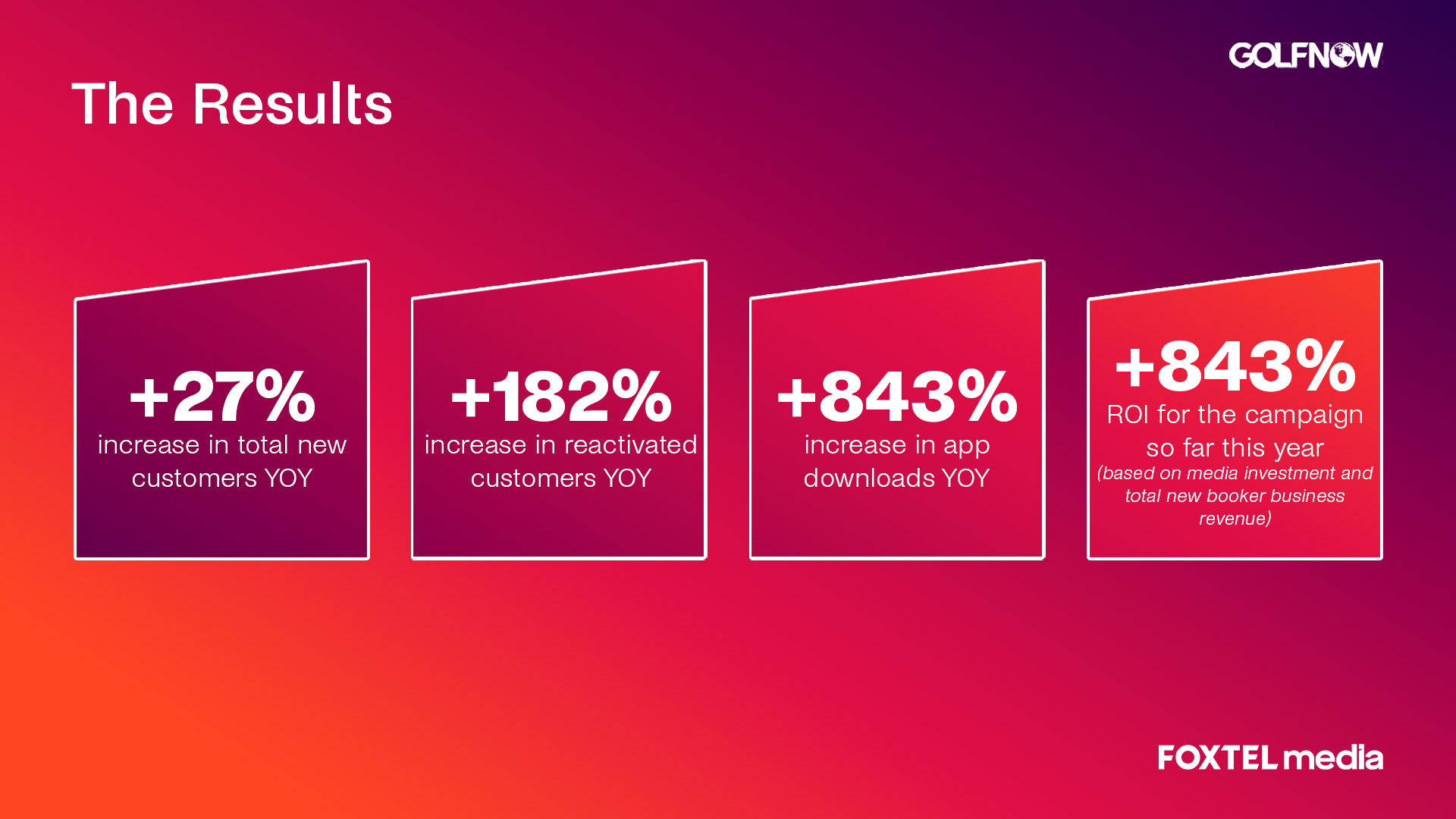 Source: Golf Now  12 -month Campaign on Fox Sport and Kayo 2022​
"In December 2021, GolfNow Australia undertook its first ever TV marketing campaign with Fox Sports and Kayo. We ran advertising across linear and digital channels targeting golf and high indexing sports for 12 months and also co-sponsored the Fox Sports coverage of the 150th Open at St Andrews. The results for our business have been extremely positive with a 27% increase in new customers and an 182% increase in reactivated users year-on-year booking tee times through the GolfNow platform. Our tee time booking app, which was the main focus of our TV marketing campaign, experienced an 843% year-on-year increase in downloads

The team at Fox Sports have been fantastic to work with, lending their expertise to the campaign to help us secure the right media for the right audience and keeping us up to date on new programming and sponsorship opportunities. We are very pleased that in the campaign's first year we are already seeing a positive return on investment based on media investment versus new booker business revenue. We look forward to continuing our marketing campaign with Fox Sports and Kayo next year."
- Karen Moss, Senior Marketing Manager, GolfNow International
See more case studies

Contact us about your next campaign!